Join us for unique fishing experience in Sicily, there are different courses and fishing trips depending the experience of fishermen. We promote the ethic and the rules for a sustainable sport fishing, supporting the D.N.A. Fishing Club to organize courses and one day fishing sections to practice diverse fishing techniques. 
Depending the season and weather conditions it is possible to go out for: Live Baiting or Bottom Fishing, Vertical Techniques (Jigging / Inchiku /Kabura /live dab), as well as Drifting for Tuna and Squid Fishing or Light Trolling. We organize also specific training session for interested fishermen. There are also opportunities for young people to go fishing on light tackles, to enjoy a saltwater experience with their parents. 
Departure from Mazara del Vallo: Captain Luciano Bonomo
Departure from Sciacca: Captain Matteo La Bella
For more information concerning sport fishing, please to contact us (using the form below) or sending an e-mail to info@fisharing.com

Ya-Kami is providing quality hooks, lines and other tools for experienced fishermen. We want to be sure to land our catches!

Real Winner produces lures, perfect to permit catches in the river, lake and saltwater, as well as, customized stickbaits for fishing in Tropical waters and for tunas. A high quality product Made in Italy.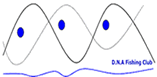 Member of the  "D.N.A. Fishing Club", an association promoting sport fishing, and organizing courses and fishing trips for members, in cooperation with Fisharing.com

You will find only the highest quality saltwater fishing tackle available at Pescafishingshop.com.  They offer a selection of the finest saltwater fishing rods and reels for all needs and fishing techniques...
Contact us for more info.
LUCIANO BONOMO is a certified fishing guide, by the International Game Fish Association (IGFA), since 2011. Moreover, he is part of the fishing team "Pesca Dalla Barca TV", and a PRO STAFF Everol Reels, using and testing these reels that definitely deliver the kind of value and performance that is demanded by those who ply the offshore waters in search of big game fish.